The Villages Early Childhood Center - Buffalo Ridge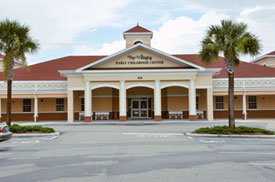 It gives us great pleasure to welcome you to The Villages Early Childhood Center - Buffalo Ridge location. We have taken care in scheduling extraordinary educational opportunities for the children in our center. As a private preschool next to the original Charter School campus, we are pleased to be able to offer the opportunity for an early learning experience as a benefit for families in the area. We are also a provider for the Florida Voluntary Pre-K program for four year olds.
We provide a complete early learning experience for one though four year olds. Our quality academic program will address all areas of your child's growth and development including physical well-being and motor development, social and emotional development, language skills, cognitive development, and approaches to learning. We are committed to providing your child with excellent care and an outstanding education. In addition to our school day curriculum, we offer early enrichment classes for our 3 and 4 year olds such as soccer, t-ball, ballet and karate, just to name a few.
For more information or to schedule a visit please contact us at:
Early Childhood Center - Buffalo Ridge
510 Old School Road

The Villages, FL 32162
P: 352-259-7161
F: 352-259-6861